Shopping Cart
Your Cart is Empty
There was an error with PayPal
Click here to try again
Thank you for your business!
You should be receiving an order confirmation from Paypal shortly.
Exit Shopping Cart
| | |
| --- | --- |
| Posted on December 14, 2014 at 12:06 PM | |
Today's channeled Akashic message comes from our Archangels and angelic guides:
We are always so happy when you come to us - we adore doting on you and helping you achieve your hearts desires.  We love when you just include us in your life and we give with loving hearts and open communication the gifts the Divine has waiting for you.  
There are two keys to bringing your desires to fruition:  one is asking from the place of love within your heart center whether it is through our intercession or direct with Source.  The second is that you must be taking steps through your actions that lead you in that direction you wish to go.  We can illuminate the path; we can guide you through signs and confirmations, however, you must be the one that takes the step - even a small baby step but it must originate with you.
This life is yours to lead , we are here to be the support team.  We an lead you to the door of opportunity, but it is up to you and your freedom of choice to actually open the door and walk through it.
We applaud you for your efforts and rejoice with you as you take your steps on your chosen path.  If you stumble we are here to comfort you and help you back on your feet.
We love you,, we adore you, We are here.  Always in unconditional love for you!
Your Archangels & Angelic guides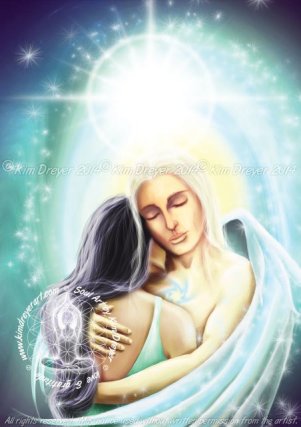 Art by Kim Dreyer -  Angel of Compassion
Categories: DECEMBER 2014
/