Shopping Cart
Your Cart is Empty
There was an error with PayPal
Click here to try again
Thank you for your business!
You should be receiving an order confirmation from Paypal shortly.
Exit Shopping Cart
| | |
| --- | --- |
| Posted on October 20, 2013 at 2:23 PM | |
This message was channeled today from the Akashic Records to help guide us on our path.  By consciously uniting with the group energies of soul mates and twin flames - we are called into higher frequencies of work, joy and love.  This time of lunar eclipse, Mercury retrograde in Scorpio is about identifying our inner most desires and fears that these desires will not come to fruition.
As we connect with our soul mates and twin flames our pillar of light energy can join with other's pillars of light.  We create a balance of space in which we are held.  We are creating our own sacred space in which to work energetically.
The beauty of this work is that we can keep the connection open and draw upon this energy to create in our day to day manifestation and deeper inner spiritual work - which is why we can use the lunar eclipse that prevails until the next full moon in November to catapult and quantum leap ourselves into the next dimension of spiritual work.  It has a sling shot effect and great energies of higher frequency work to lead us on our path.
The first step is in grounding yourself through nature and Gaia, absorbing her energies through your chakras and up and out of your crown and higher energy chakras.  This pulls you up and creates a steady rod of powerful aligned energy.

Then you expand your awareness and seek out the energy of your soul mates and twin flames.  Uniting yourselves for your higher good and that as a consequence for the entire planet and cosmos.
After your connection, greeting and uniting in love, openly and with conscious awareness set yourself to write, create, paint - focus on what you are called to do, your passion.  A sharing with others on this plane is helpful in joining with like-minded individuals who contribute to the raising of your vibration.
Extend your sacred space created in the ethereal into your physical space at home and work.  Pull in the elements that speak to you and encourage you with inspiration, light and love.
The following is a channeled message in light language: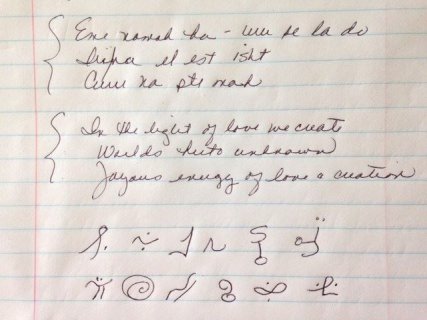 In light and love, 
Mariann 
Categories: OCTOBER 5TH DIMENSIONAL WORK 2013
/