Shopping Cart
Your Cart is Empty
There was an error with PayPal
Click here to try again
Thank you for your business!
You should be receiving an order confirmation from Paypal shortly.
Exit Shopping Cart
| | |
| --- | --- |
| Posted on April 16, 2013 at 11:43 AM | |
Today, I asked my guides and teachers in the Akashics a question "What would my life be life if I released my worries of finances?  This was my particular worry but I was told you could substitute whatever it is that you are worrying about. There are many of you who are light workers like I am yet seem to be stuck on a particular issue.  I was told that the answer they gave me would be of benefit to many of you who read my blog.  
What I heard was that I would be Relaxed!  Reading a book, time to spare, focused on work and writing, watching videos basically enjoying my time.  That we have created a wonderful like but by thinking we will lose it - then eventually you will bring what you fear into reality.  That luckily we have offset it by meditating, reading the Akashics (or oracle/tarot cards) for others and being of service.  By releasing worries and just putting them away.
We have made advances and now we are starting to ask the questions that will help us release these fears.  We have amazing powers to manifest.  The inner child we connect with really helps in giving it the power to bring your thoughts and wishes into being.
As we connect everyday by sitting in solitude, connecting with nature and using affirmations, we start to change our perception.  "LITTLE ME - GET OUT OF HERE!  THE BIG ME WANTS TO BE SUCCESSFUL, BE OF SERVICE AND BE PROSPEROUS!!!!"
You recognize the power within us as it rises up as you say the affirmation.  Your monkey mind must immediately obey.  However, sometimes you still allow the resistance (ego) to take control and it keeps you from connecting through meditation and writing.  The ego is trying to keep control and grabs on harder as we connect with our true self, in a last ditch effort.
I then asked, "What can I do to release these worries and open myself to abundance (health, wealth, love and happiness)?  The answer is simple, Do what comes naturally.  If it's forced it's not spirit guiding you.  It's okay to just sit and be, this allows you to draw in your power to charge yourself and then when you release this power through action it has the force of an explosion.  Because you have stored up the power and then released it through focus which amplifies it - Creating a huge solar flare of expulsed energy of creativity out into the ethers.
Ask your guides your questions, sit and honor your time and listen for the answers as they come to you. 
Blessings today and always
Mariann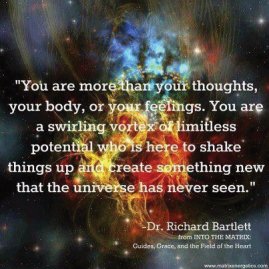 Categories: APRIL CO-CREATION
/