Shopping Cart
Your Cart is Empty
There was an error with PayPal
Click here to try again
Thank you for your business!
You should be receiving an order confirmation from Paypal shortly.
Exit Shopping Cart
| | |
| --- | --- |
| Posted on February 17, 2013 at 12:56 PM | |
Many, many Ascended Masters, Archangels, guides and teachers are flooding and crossing the veil of our reality to brings us messages, guidance and teachings for we are ready to receive and apply many new thoughts, ideas and paradigms.
The starts, planets and universe have aligned for this to take place all under the Divine Plan.  Nothing is too great or too small to be considered.  Source/God sees, hears and knows all things have a purpose.
Remember the least of your actions and thoughts have rippling effects across the universe.  Ask - Ask for what you want - announce your desires out loud - shout it from the highest mountain with enthusiasm, love and joy.  Be passionate and thrilled at this life experience.
Because there is nothing like it in all the universe.  We are unique, creative beings bringing forth our Divine selves to shine and emit vibrations of love.  Our radiance is blinding and therefore there is nothing under the stars, sun and moon, that we cannot achieve, have or be.
DAY 21 - I DECLARE  God's supernatural favor over my life.  What I could not make happen on my own, God will make happen for me.  Supernatural opportunities, healing, restoration, and breakthroughs are coming my way.  I am getting stronger, healthier, and wiser.  I will discover talent that I didn't know I had and I will accomplish my God-given dream.  This is my declaration.
Joel Osteen I Declare 31 Promises to Speak Over Your Life
Happy Birthday and blessings to my son, Giancarlo!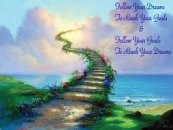 Categories: 31 DAY JOURNEY
/