Shopping Cart
Your Cart is Empty
There was an error with PayPal
Click here to try again
Thank you for your business!
You should be receiving an order confirmation from Paypal shortly.
Exit Shopping Cart
Today's channeled Akashic message comes from our Archangels and angelic guides:
We are always so happy when you come to us - we adore doting on you and helping you achieve your hearts desires.  We love when you just include us in your life and we give with loving hearts and open communication the gifts the Divine has waiting for you.  
There are two keys to bringing your desires to fruition:  one is asking from the place of love within your heart center whether it is through our intercession or direct with Source.  The second is that you must be taking steps through your actions that lead you in that direction you wish to go.  We can illuminate the path; we can guide you through signs and confirmations, however, you must be the one that takes the step - even a small baby step but it must originate with you.
This life is yours to lead , we are here to be the support team.  We an lead you to the door of opportunity, but it is up to you and your freedom of choice to actually open the door and walk through it.
We applaud you for your efforts and rejoice with you as you take your steps on your chosen path.  If you stumble we are here to comfort you and help you back on your feet.
We love you,, we adore you, We are here.  Always in unconditional love for you!
Your Archangels & Angelic guides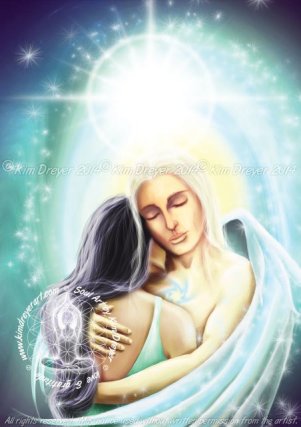 Art by Kim Dreyer -  Angel of Compassion
Today's question that I posed to the Akashic Records is What is the best way to move forward with our life?  The answer is as follows:
The best way to move forward is to do things that make you feel good.  Each day should be a dedication to reveling in life.  It is the best way of showing appreciation and gratitude for the life you are experiencing.  It is showing the Universe that you wish to experience more of the same.  That is why we need to learn that having fun, experiencing satisfaction in work, feeling uplifted by music, art, creativity is where we want to spend our time.
If we are so busy, with inconsequential details and feel our life is too busy to put our own interests first then the Universe thinks this is actually how we chose to spend our time and gives us more of the same.  Filling our days with meaningless tasks that never allows for us to have deeper connection to our true self, which is the Divine essence.
Each day/moment even in life, we can make the choice to put aside the small minutiae, the "make-work" and dedicate ourselves to carving out blocks of time - say 15 minutes several times a day, to pause and do something we enjoy.  Write these blocks into your schedule and create a life that revolves around YOUR true choices of liberation, freedom, fun, laughter, joy, peaceful silence or whatever else you choose to experience and bring more of into your life.
Namaste, Your Guardian Angel (who abide next to you and love you Unconditionally).
Mariann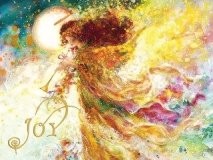 0

/