Shopping Cart
Your Cart is Empty
There was an error with PayPal
Click here to try again
Thank you for your business!
You should be receiving an order confirmation from Paypal shortly.
Exit Shopping Cart
Today, we take advantage of the wonderful Full Moon energies which will be coming in this week.  As a time of rest, reflection and closure to our Spiral Journey.  With the incredible deep inner work we have done with the assistance of the energies of Pisces and the Mercury Retrograde - two extremely powerful and transformative influences.
When we are in the process of transformation our desire, intent, and focus are the driving forces that get us through the difficulties and perceived obstacles that we have created.  My intent and desire for this journey was to be completely transformed by its completion and to consciously with awareness climb the spiral ladder of expansion.
Each step of the process brought joy as I received the messages from Source.  Inspiration came and guided me to see where I needed to let go and release and what ideas could be implemented to create a balanced, joyous and Divinely guided life.  
Some of the concrete applications have been to create a schedule, which includes time for myself.  My expansion is bringing me happiness and making my work time more focused and dedicated,  I now put myself first, which was a major lesson that I have needed to work on for a long time.  I now include in my life on a daily basis meditation, writing in my  journal, Qi Gong exercises (right now I'm doing 10 minutes but I am looking forward to more), time to spend with my family, work time to expand my presence on facebook, Youtube and especially concentrate on live Akashic readings which is where my absolute joy resides.
I am in deep gratitude and appreciation to my beautiful guides, Archangels, Ascended Masters, my fellow light workers and all of my subscribers and supporters for filling me with their love, guidance and in sharing this journey.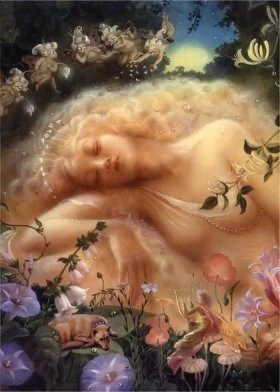 Blessings, Love and Light,
Mariann
THE WORLD - ARCHANGEL ZADKIEL - 10TH CHAKRA RAINBOW ENERGIES 
Today we complete the Spiral Journey.  From the beginning we have followed the Awakened Fool as we traversed the steps and lessons of higher awakening of the Major Arcana and the evolution wrought by I AM Presence.  
As with all endings there is a poignancy and desire to remain in the energies that have come through all the inner work - and we are now at a pinnacle.  However, a new beginning beckons us and we start all over again as an apprentice to our expanding journey of self.  We are ever building upon the knowledge gained.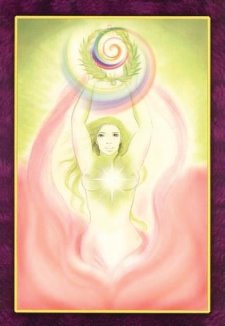 The World in the Awakened Path is joined by Archangel Zadkiel the Comforter.  He represents the Rainbow energies of the 10th Chakra.  This chakra is located 4 feet over the crown chakra and is linked with the Heart Chakra. 
The energies are of balancing the masculine and feminine energies and living in harmony.  These energies allow to access Past Life ancient wisdom and skills.  We are now able to apply and use these skills with a seeming ease.  Synchronicity of events are manifesting as we work with the Rainbow energy.
Zadkiel works with the Divine Feminine energies of compassion through Mother Mary, Lady Nada and Quan Yin, Ascended Masters.  Our shadow self is integrated with the feminine intuition.  We are now expressing this unconditional love into our lives and the world.
In great appreciation and gratitude for following and sharing in this journey with me, 
Blessings,
Mariann
The joyful energies and expression of Divine Love start making themselves manifest into the outer reality of this physical dimension, visible to others.   Others begin to see your illumined self.
We are light workers and beacons of love, light and joy, attracting others to our energies.   Through the Divine Love of Spirit we act as guides to assist others through our service to raise the frequencies and energetic levels of the world.
Our own communication with Ascended Masters, Archangels, angels and higher vibration entities (Devas), is open and flowing.  We see, hear and sense the signs that they are sending to us on a physical level.
As we have travel through the Awakened levels of the Tarot, we have reached a higher rung on the Spiral Ladder.  Our journey through these transformative insights and recognition of the I AM PRESENCE within - leads us to a newer and ever expanding knowledge of the love of the Divine for us and how it translates in co-creation and manifestation to fulfill our part of the Divine's Plan for the universe and that we are unique pieces of the puzzle which adds to the beauty of the whole.
The absolute love that is represented by Sandalphon the beloved brother and Twin of Archangel Metatron is an all encompassing and pure crystalline energy that elevates through quantum levels with no barriers of time, space or dimension.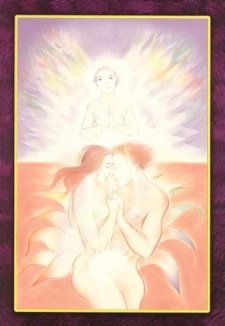 The twin energies are combined to really propel us forward into integrating ourselves and by completely accepting our masculine and feminine energies.  These energies within us are being joined in harmony, creating a new brilliant and explosive energy that is more than just the sum of the two!
Revel in the new and higher, expanded you.  You can no longer nor will you wish to - hide this shining, energized and brilliant self which is a vessel for the Divine the I AM that flows through you and from you to others.
"I AM THE INTEGRATION AND VISIBLE MANIFESTATION OF JOY AND BLISS!"
Namaste,
Mariann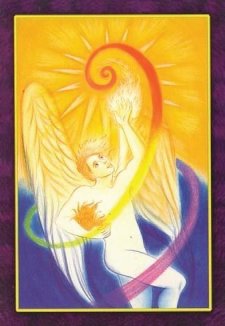 Today we experience the powerful golden ray of the sun as we are enlightened by Archangel Uriel's wisdom.  We communicate wit our higher self and connect with others with clarity of vision and open-hearted loving energies.
We ask how can we be of service and highest good for ourselves and others?  Envision the golden ray entering through your solar plexus chakra filling you with courage, strength and then focus that energy running through your entire body, filling your heart.  Call upon this energy to emit through your heart chakra as you connect with others today.
Whether it be the person behind the counter at Starbucks, the person in line with you at the bank or your children, partner, friends or neighbors.  Each and every connection is an opportunity to exhibit and share in these fiery energies giving warmth, love and heart-felt compassion to others.
It is knowing we are connected and are one.  These energies will then multiply and raise the vibrations of all the world and the universe in turn.  The ever flowing stream of prosperity, abundance, love and joy will come streaming to us enriching our lives and of all those who surround us.
Focus on your Divine purpose and path.  The service that only you can provide today.  The surging energy that flows throughout the universe is ours to use and tap into, in order to co-create a world of Divine love and energy.
May the sun shine upon you,  blessings,
Mariann
Today's message through The Moon card comes from Archangel Raphael - he speaks to us regarding discipline.  This discipline comes from guidance and wisdom from our inner self.  Not an outside source of routine, but one we create ourselves from our own Divine self.
It is following the messages from our own body and life path.  Archangel Raphael suggests we become more in tune with what our body needs from us.  Purity of water, foods that contribute to our well-being, yoga - a combining of physical and spiritual elements.  
We are in the continuing process of aligning with higher frequencies and elevated energies from the 5th Dimension.  Our old routines and non-maintenance of our bodies does not function at higher frequencies.  That is why we are experiencing more illness, dis-ease and feelings of discomfort.
Deepak Chopra's meditation for today speaks about as we nourish the universe we nourish ourselves.  We are deeply connected our mind, body and spirit.  All must be in balance for us to function at the highest levels.
I have started to do Qi-Gong in the mornings as a part of my new routine.  My body needs to feel more limber and I desire to have a greater ease of movement.  I also feel spiritually fed by the balance Qi-Gong brings.  As I drink water, I pray over it to project love and joy and that it provide me with the highest energies.
Another discipline in which Archangel Raphael is speaking to me about, is our daily routine of work, home and spiritual path responsibilities.  Really focusing on creating a space that nourishes me mentally and physically so that I am in the best space in order to work on my spiritual path and life purpose of being of service to others.
Take time today to go within allowing your inner wisdom to speak to you and guide you into your highest good.
" I AM THE PERFECT BALANCE OF MIND, BODY AND SPIRIT."
Blessings in light and love
Mariann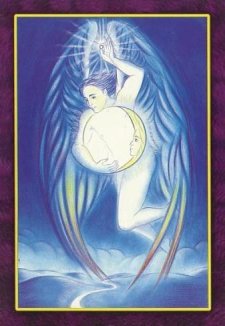 Today the Christ energies brought to us through Archangel Gabriel and our card from the Awakened path of The Star card.  Today's combined energies of #11 Christ and #2 Intuition/Wisdom create within us the awareness of the "I AM" PRESENCE.  In Deepak Chopra's 21 Day Meditation our mantra for today is "SO HUM", "I AM".  So on the inhale, Hum on the exhale.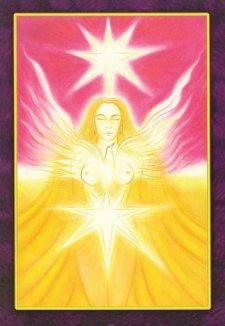 All life beings with the breath, a slow deep inhale and a long release.  This is the most basic and intrinsic reminder of the "I AM" presence within us.  The Divine works through us in each moment as we breathe.
This is our connection to our God-self and tells us we are "GOD".  Therefore, we have the opportunity to connect with this energy of love in each moment to create, manifest and experience.  
In each act and moment of our day and our life, we have the opportunity to bring forth  our most high vibration, our sense of unity and ourselves.  In every action whether big or small if we recognize this core message our whole lives can be perfection.  By putting our attention on love in all that we do we evolve into our highest good.
Take the time to perform everything you do from brushing your teeth, washing dishes, driving to work, hugging your children as an act of respect, love and wonder that we are even here to be able to experience and do this.
You will begin to perceive and experience everything anew as if for the first time.  Time to recognize how you fall into old patterns or habits that have become automatic.  By being present, here and now, your awareness allows you to see it in a different light this shift in perception opens you to the Eternal Being that is YOU!
Creating the wonder, beauty and emotion of great gratitude for all we experience in each and every single moment - leading us to a life of great joy, abundance, prosperity and fulfillment of our Divine Purpose - the experience and knowledge that we are ONE with ALL and we are GOD!!
" I AM THAT I AM"
Namaste, 
Mariann
One of the most powerful cards in the Major Arcana - and most feared, dreaded and misunderstood Why?  Because it brings in change and transformation.  It also brings enlightenment and joy.  If we resist the change that we are ourselves have asked for and we insist on holding on to our fears, then our pain and suffering are magnified.
The message of the Awakened Fool in the process of reaching higher perspectives uses this awesome tool to finally release the fears that have been holding us back from realizing our joy and reaching our goals, hopes and desires.
Archangel Michael's presence of protection, security and love helps to guide us through this process.  He provides a safe haven for us to feel comfortable, loved and secure to allow us to release our fears and move forward in the energy of love and our life's path.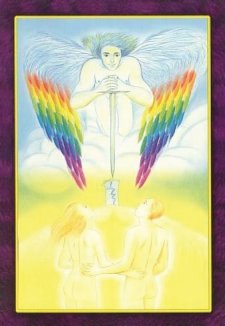 The Tower's message is to Trust in the higher will of the Divine within us NOW!  So that WE consciously restructure and change our lives through love and not fear.  Letting go of the confusion in our life, so that joy is released and allowed to come through,
To bring about the changes in a joyous manner by our choosing the energy of love to allow those things that no longer resonate with our new vibration of love, peace and joy.  Making the space in our lives for the new, beautiful and transformative energies to enter and be the guidance we need on this new path to fulfilling our destiny!
" I AM THE CHANGE AND TRANSFORMATION I WANT TO SEE IN MY LIFE."
Blessed Be!
Mariann
The Devil usually denotes a form of bondage to our thoughts, our perceived realities - our fears - based on ego and negative thought patterns which are keeping us in limitation and lack.
However, the awakened path - allows for our inner strength and inner sense (innocence) to see our lives as interdependent and not co-dependent.  
We come to the understanding that sharing our thoughts which are generated through the heart and not the mind are the ones that elevate ourselves and others.
That we communicate our feelings through truth, openness and vulnerability.  Transforming the once negative, limiting beliefs into positive statements and affirmations of what we are truly wanting to be, have and do.
St. Germain is a powerful ally, friend and Ascended Master - he has given us much insight on this path of exploration of the I AM PRESENCE.  Opening us to our own inner brilliance and shining light that is the Divine within.  We can now fully communicate not just on a one-to-one level but to the many, as well.  Because we are being led by our connection to source and resonating and vibrating in and through the Energy of Love in the 5th Dimension.
As Mercury is now coming out of retrograde and starting to resume it's forward motion, we can prepare for the movement into the new, positive, loving direction that we have found through our deep inner work and be ready to jump into action according to the Divine plan and timing for us.
" I AM IN COMPLETE ALIGNMENT WITH MY GOD-SOURCE WITHIN."
Namaste , (The light in me salutes the light in you)
Mariann
As I was reading the definition for the Awakened Essence of Temperance what stuck in my mind and resonated with me was, "Cooperation not Competition", through the Divine Feminine within.  Sowing the seeds for future generations - being responsible for finding the balance of masculine and feminine energies with you.
Then through these balanced energies facing your inner fears and demons, treating yourself with love and compassion so that then you can be of service to others and assist them in developing trust and faith and releasing their fears.
So through cooperation we assist each other to grow, expand and create a better world for us and all those who follow.
I think a beautiful example of this sharing is a sport called "Free Running".  My son became interested in it through a fried while he was in high school.  He explained why he liked it so much.  He said, "Mom, there is no competition what I love is the cooperation as we each teach other to do the moves, jumps and flips.  We are there to watch out for each other and they only competition is you with yourself, just pushing yourself to be better and do more."  
He said what he loved most is learning about his body's balance and to be aware of his center point.  How appropriate!  I've always loved this explanation because it is exactly how we can view ourselves, our spiritual journey and awareness of where we are - our place is to cooperate, find balance and to be ever expanding.
Love to all,
Mariann
" I AM THE BALANCE OF FEMININE AND MASCULINE IN COMPLETE COOPERATION"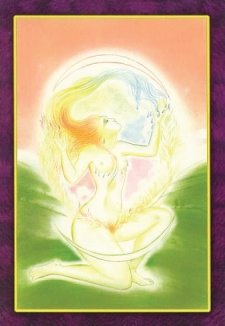 Sometimes messages are subtle in a quiet way.  A way of gentle release - not all letting go is of a devastating nature.  Sometimes we are ready for the release.  It is a realization that what we have held on to for so long believing it necessary in our lives no longer serves the purpose we thought it did.  We are no longer afraid of letting go but do so willingly.
Things and people seemed to start to fade from our lives, not in a drastic, dramatic way but in a loving, floating way.  They just drift out of our life.  The Divine Feminine energy is present in the Awakened Fool's path in this Death Card.  The energy of love allows us to release our fear through a gentle, love and compassionate way, for ourselves and others.
It is with a knowing that the time is right to allow this to happen.  It is with awareness and choice that we allow our outdated beliefs, fears and limitations to be released.
We are ready, this burden which is self-induced is too heavy to carry any more and we want to let it go.  We are now willing to TRUST that the Divine Plan, Order and Timing are right for us.  We have been shown time and again that what we can control is our perception and we can control our thoughts and create new ones to replace the old paradigm belief.
That through forgiveness and compassion towards ourselves and others we can move forward onto our path of abundance, fulfillment and our true Destiny.
" I AM WHAT I WANT TO BE"
In light and love,
Mariann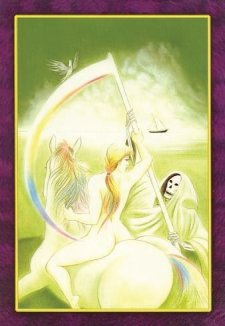 0

/